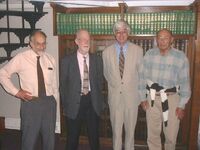 Peter John Landin (1930 – 3rd June 2009[1]) was a British computer scientist. He was one of the first to realize that the lambda calculus↑ could be used to model a programming language, an insight that is essential to development of both functional programming↑ and denotational semantics↑. He was a colleague of Christopher Strachey↑ and an academic at Queen Mary London↑.
References
Edit
External links
Edit
Community content is available under
CC-BY-SA
unless otherwise noted.